This web page was created in a simple HTML format for quick and easy loading on a variety of desktop and mobile platforms.

Updated December 3, 2023

Thank you for your interest in Ohio University Cheerleading!

Tryout dates and times for the 2024-25 Cheer Season will be announced here.
Check back in February 2024 for more information
---
JOIN THE TEAM!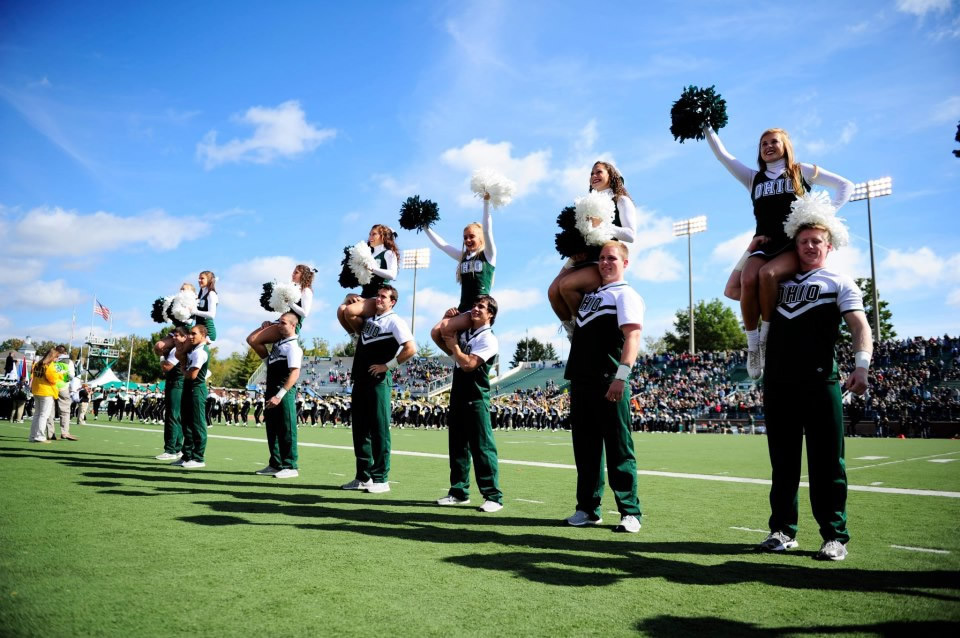 ---
ABOUT CHEER TRYOUTS
Ohio University Cheerleading is a traditional co-ed team with up to 24 members -- 12 females as flyers and 12 males as bases.


The minimum tumbling requirements for females are a standing back tuck, standing handspring tuck, and a power roundoff tuck on a dead mat. NO EXCEPTIONS. Standing skills MUST be true standing, no "step-step-push".


You are not required to have tumbling beyond our minimum standards, but you will earn more points in tryouts for more difficult skills that are properly executed.


NEW: Males and females are required to successfully hit a chair (a basic partner stunt) at tryouts to make the team.


This is a CHAIR - an entry-level co-ed partner stunt.

The boy tosses the girl into the air and catches her with the palm of his right hand under her tailbone. He grabs the left ankle for stabilization and pushes up, taking some of the weight off his outstretched right arm.

The girl remains tight as she is being tossed then leans back slightly after she is seated in the "chair".

We teach this partner stunt at our clinics as part of a progression that includes the body mechanics of the toss and the girl's role in getting maximum height out of the toss.

Males and females will learn their roles in the partner stunt as well as safety techniques that minimize the chance of an injury.
There are no other minimum partner stunt requirements but we strongly encourage some college level co-ed experience. This can be obtained through college stunt clinics, all star gyms, or high school cheer programs that teach co-ed partner stunts.


Females cannot be afraid to fly and males must be physically capable of basing a female stunt partner.


We don't judge strictly on skill; your potential and your coachability are also evaluated.




- TRYOUT TIP -

If you're thinking about trying out, get in the gym early. Like January or February early. Our tryouts are in May.

Take a slow and steady approach with basic weightlifting, cardio, and other tasks that build your overall strength and endurance. As you progress, shift your workouts to high intensity, short duration weightlifting that simulates the physical skills used in stunts and tumbling. This applies to both males and females.
Be ready for a full day of physical activity at our stunt and tryout clinics and on the day of tryouts.

In addition to making you physically prepared for college cheerleading, this extra work will give you a huge confidence boost when we get the chance to train and learn together at our stunt and tryout clinics.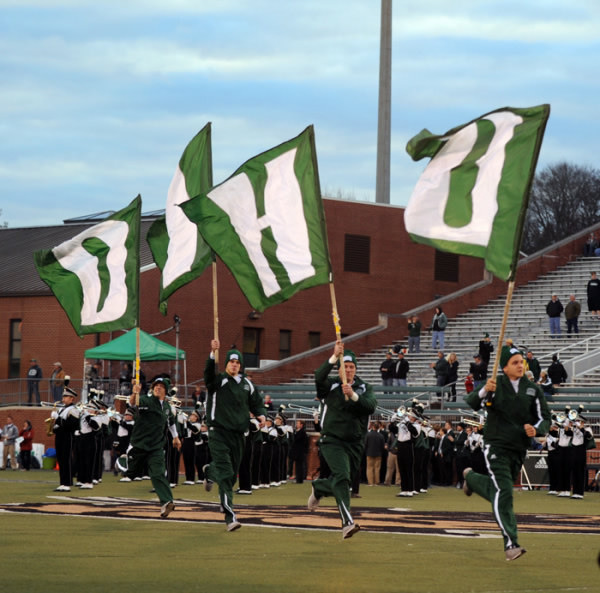 ITINERARY FOR PRE-TRYOUT CLINIC DAYS:

The pre-tryout clinics simulate the format and skills necessary for tryouts and allow time for practice, learning, and questions.
During clinics, we will start each day with tumbling checks.

Please make sure your standing tucks, back handspring tucks, and power roundoff tucks are ready to go.

We will make cuts after tumbling checks if you do not meet the minimum requirements.

We will then break into two groups -- Partner Stunting stations with Coach Rick and Tumbling stations with Coach Becky.

At the end of each day, we will teach and/or review a sideline cheer and our fight song.



ITINERARY FOR TRYOUTS:
You will try out in groups of three.


FEMALES - You will be required to demonstrate these skills:



Standing back tuck.
Standing handspring tuck.
Power roundoff tuck.
Your two best tumbling passes. (standing or running, your choice)
Your two best partner stunts. (one can be a chair, plus another higher level partner stunt)
An Ohio University cheer.
Spot-cheer. (taught immediately before tryouts)
The dance to the Ohio University fight song.

MALES - You will be required to demonstrate these skills:



Two partner stunts:


a chair and another more difficult partner stunt (using the same girl or two different girls), or
a chair with two different girls.

Males may be called on to stunt with a number of girls trying out as well as spotting various partner stunts.

CLOTHING and GENERAL TRYOUT INFORMATION:
GIRLS --



Wear white hair bows and natural makeup.

Nails should be unpolished, neutral colors, natural colors, or OHIO hunter green and/or white colors.

We will be partner stunting so cheer shoes are required.

No Spandex shorts.



GUYS --



Sturdy athletic shoes are required.

Tape and prewrap will be provided for your wrists.



EVERYONE --



Wear a short sleeved tee shirt and athletic shorts in hunter green and/or white OHIO colors.
No jewelry of any type. This is a safety issue.
No horseplay. Be attentive to direction from the coaching staff and your stunt partner.
Unless there is an imminent safety issue, no talking when stunts are in the air.

Bring your own water bottle.

Be prepared to work hard and have fun!
---


- ANSWERS TO FREQUENTLY ASKED QUESTIONS -
To be eligible to try out, you must be registered as a student at the Athens campus for the Fall 2024 semester -- or have a letter of admission to Ohio University if you are a first year or transfer student.


Ohio University has one traditional college co-ed cheer team composed of up to 12 males and 12 females. Our team cheers for football and men's and women's basketball. Males are used as bases. Females are used as flyers in partner stunts and basket tosses and may be placed at the mid or top level on pyramids. Females cannot try out for base or backspot positions.


All cheerleaders must be comfortable working with different stunt partners and in different places in pyramids. We need your flexibility and coachability to make us a more versatile team.


A "safety first" attitude is mandatory during practices, games, exhibitions, clinics, etc. All cheerleaders must understand when and how to spot stunts and pyramids. We will teach you this skill. Our goal is to be injury free for the entire season.


As a student athlete, you will have mandatory weight room conditioning throughout the season. Physical conditioning improves skills and endurance and reduces the chance of an injury. The coaching staff will monitor your ongoing participation.


Tumbling requirements for females are evaluated at tryouts and your skills must be maintained throughout the season. No exceptions. Tumbling checks occur at every practice and before every game from summer work week and cheer camp in July through the end of basketball season in March.


All cheerleaders must maintain a 2.0 GPA to remain on the team. Academics are the most important part of your college career. We want you to excel in the classroom and graduate. Assistance is available to any cheerleader experiencing academic issues. If you are struggling, request help early so you can get back on track and maintain good grades.


Cheerleading at Ohio University is a major time commitment. We normally practice at least two nights a week with extra practices scheduled as necessary. Football game days are an all day event and basketball games can occupy several afternoons or evenings a week including weekend doubleheaders. We do travel to some games and that may include overnight accommodations. Our cheer team normally travels to bowl games for football and some post-season tournament play for men's and women's basketball. We also participate in a limited number of public relations events on and off campus throughout the year.


A normal season of events looks something like this:



MAY -- Tryout clinic, tryouts, and team selection
JUNE -- off
JULY -- off
AUGUST-- Work week and UCA Cheer Camp, pre-season practices, first football game
SEPTEMBER -- Football games and practices
OCTOBER -- Football games and practices
NOVEMBER -- Football games, basketball games, and practices
DECEMBER -- Basketball games and practices, Bowl Game for football

JANUARY -- Basketball games and practices
FEBRUARY -- Basketball games and practices, Stunt Clinic
MARCH -- Basketball games, MAC tournament, other post-season tournaments
APRIL -- Stunt Clinics and open practices



Attendance at games, practices, and other cheer team functions is mandatory unless you are ill or injured.

At this time, Ohio University DOES NOT compete as a cheer team. Competition is a future goal for our program.
Ohio University supplies warmups, shoes, shirts, shorts, uniforms, and other items that are part of your cheer attire. There is no cost to the cheerleader. The university also pays for and arranges travel, meals, and lodging when the cheer team accompanies our football and/or basketball teams to an away game or tournament.


There are additional team rules on personal conduct, attendance, travel, uniforms, coachability, respect, etc. that will be made available to all cheerleaders during work week.
---

FORMS AND PAPERWORK



** NEW ** THE FOLLOWING FORMS MUST BE COMPLETED:





IMPORTANT: The coaching staff needs COPIES of everything -- not the originals.

We are required to keep hard copies of every document,
regardless of whether or not you are selected as a cheerleader.

No pictures of documents on your cell phone.

If you submit original documents (instead of a copy) we may not be able to return them.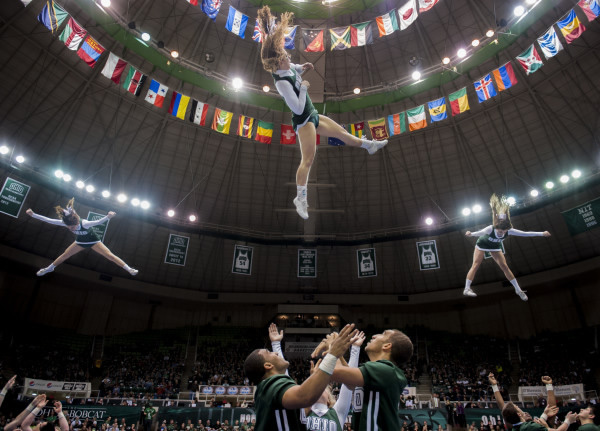 We can't wait to meet you!
Good luck at the upcoming clinics and at tryouts!!!

---
QUESTIONS NOT ANSWERED HERE?

Contact our Coaching Staff

Coach Becky: dickenr@ohio.edu
Coach Rick: callebs@ohio.edu


---
.
.
This web page was created in a simple HTML format for quick and easy loading on a variety of desktop and mobile platforms.

© 2023 Ohio University Cheerleading | Updated December 3, 2023
Follow us on Facebook and Instagram!