Updated November 11th, 2022

Thank you for your interest in Ohio University Cheerleading.

This web page is to provide up-to-date information
on tryouts at Ohio University for the 2023-24 cheer season.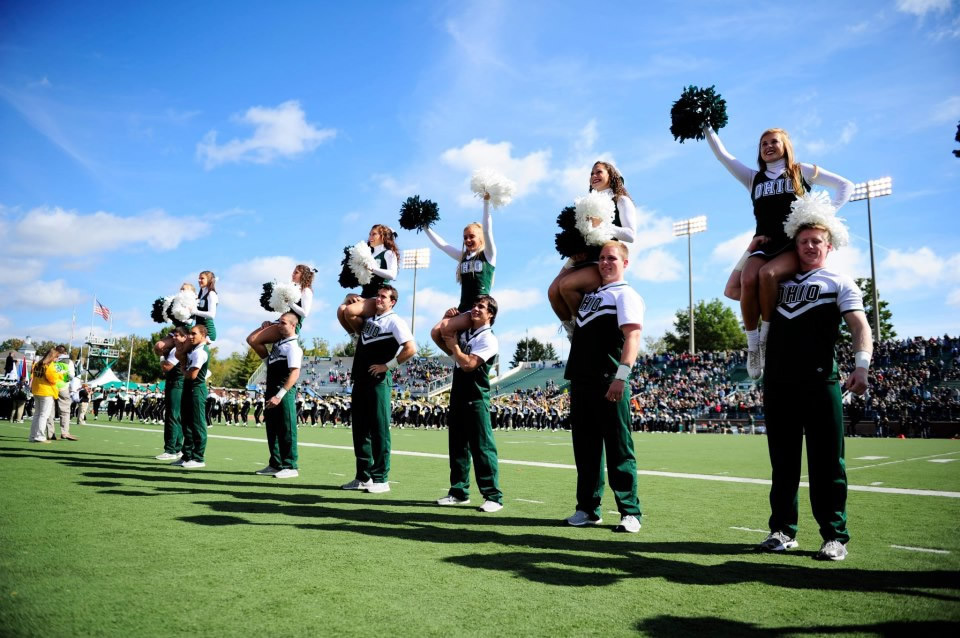 A co-ed stunt clinic is tentatively scheduled for
Saturday February 25th, 2023 at the Convocation Center.

Tryouts for the 2023-24 Ohio University Cheer Team are tentatively scheduled
for the second full weekend in May at the Convocation Center.
Tentative dates are May 13th and 14th, 2023.
Check back in early 2023 for additional information on both events.

Ohio University Cheerleading is a traditional co-ed team with 24 members -- 12 females as flyers and 12 males as bases.


The minimum tumbling requirements for females are a standing back tuck, standing handspring tuck, and a power roundoff tuck on a dead mat. NO EXCEPTIONS. Standing skills MUST be true standing, no "step-step-push".


You are not required to have tumbling beyond our minimum standards, but you will earn more points in tryouts for more difficult skills that are properly executed.


NEW: Males and females are required to successfully hit a chair (a basic partner stunt) at tryouts to make the team.


This is a CHAIR - an entry-level co-ed partner stunt. The boy tosses the girl into the air and catches her with the palm of his right hand under her tailbone. He grabs the left ankle for stabilization and pushes up, taking some of the weight off his outstretched right arm. The girl remains tight as she is being tossed then leans back slightly after she is seated in the "chair". We teach this partner stunt at our clinics as part of a progression that includes the body mechanics of the toss and the girl's role in getting maximum height out of the toss. Males and females will learn their roles in the partner stunt as well as safety techniques that minimize the chance of an injury.
There are no other minimum partner stunt requirements but we strongly encourage some college level co-ed experience. This can be obtained through college stunt clinics, all star gyms, or high school cheer programs that teach co-ed partner stunts.


Females cannot be afraid to fly and males must be physically capable of basing a female stunt partner.


We don't judge strictly on skill; your potential and your coachability are also evaluated.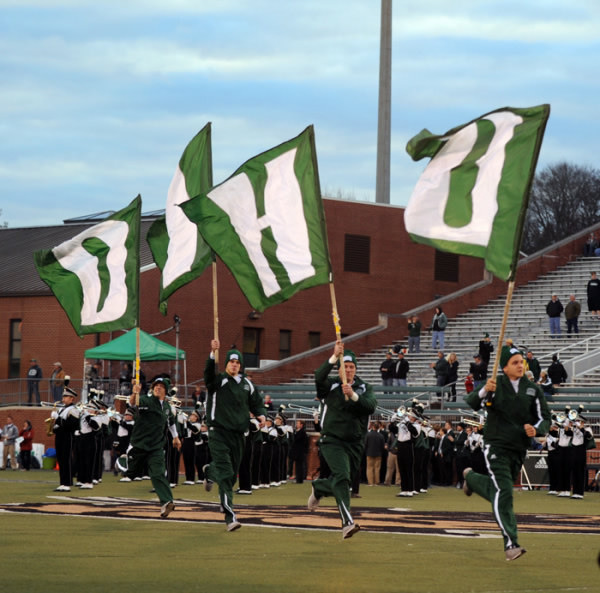 ITINERARY FOR PRE-TRYOUT CLINIC DAYS:

During clinics, we will start each day with tumbling checks.

Please make sure your standing tucks, back handspring tucks, and power roundoff tucks are ready to go.

We will make cuts after tumbling checks if you do not meet the minimum requirements.

We will then break into two groups -- Partner Stunting stations with Coach Rick and Tumbling stations with Coach Becky.

At the end of each day, we will teach and/or review a sideline cheer and our fight song.



ITINERARY FOR TRYOUTS:
You will try out in groups of three.


You will be required to demonstrate these skills:



your standing tuck
standing handspring tuck
power roundoff tuck
your two best tumbling passes (standing or running, your choice),
two best partner stunting skills/sequences (one must be a chair)
an Ohio University cheer
spot-cheer (taught immediately before tryouts)
the dance to the Ohio University fight song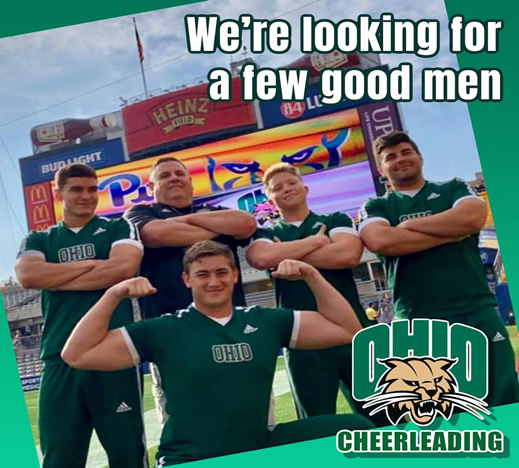 CLOTHING:
GIRLS --



Wear a short sleeved tee shirt and athletic shorts in green and/or white OHIO colors.

Wear white bows and natural makeup.

Nails should be unpolished, neutral colors, natural colors, or OHIO green and/or white colors.

We will be partner stunting so cheer shoes are required.

No Spandex shorts.



GUYS --



Wear a short sleeved tee shirt and athletic shorts in green and/or white OHIO colors.

You cannot be shirtless or wear a tank-top shirt. This is a safety issue.
Sturdy athletic shoes are required.

Tape and prewrap will be provided for your wrists.



EVERYONE --



No jewelry of any type for males or females. This is a safety issue.

Bring your own water bottle.

Be prepared to work hard and have fun!
** NEW ** THE FOLLOWING FORMS MUST BE COMPLETED:





IMPORTANT: The coaching staff needs COPIES of everything -- not the originals.

We are required to keep hard copies of every document,
regardless of whether or not you are selected as a cheerleader.

No pictures of documents on your cell phone.

If you submit original documents (instead of a copy) we may not be able to return them.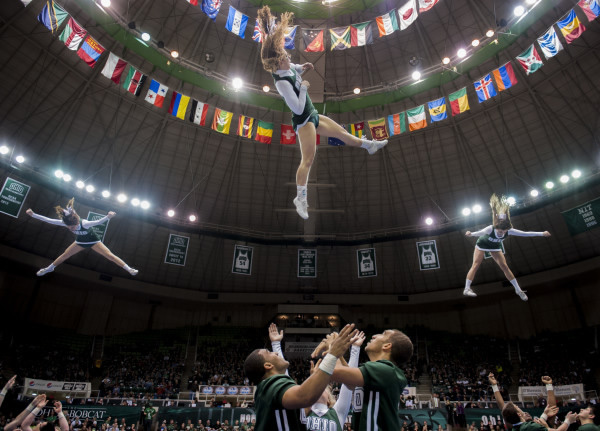 We can't wait to meet you!
Good luck at the upcoming clinic and at tryouts!!!

QUESTIONS NOT ANSWERED HERE?

Email our Coaching Staff


Head Coach Becky Dicken - dickenr@ohio.edu

Assistant Coach Rick Callebs - callebs@ohio.edu

© 2022 Ohio University Cheerleading | Updated November 11th, 2022